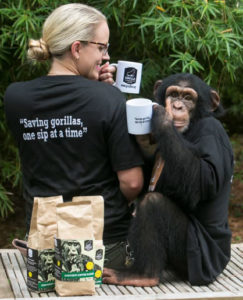 The Rare Species Fund has participated in a project in conjunction with its Uganda conservation partner, Conservation Through Public Health. Funding for this project helped create product branding and educated local farmers in sustainable farming methods, increasing product quality and yield. Further, some of the coffee producers in this project were once poachers who have been given an alternative method of providing for their families. By providing coffee farmers living around the Bwindi Impenetrable Forest an outlet for their product, and obtaining premium prices for their coffee, the Gorilla Conservation Coffee project gives farmers a more reliable source of income, which in turn translates to more financially stable villages that become less reliant on illegally exploiting resources from gorilla environments for survival.
In addition to community involvement and enrichment, $1.50 per kilo of GCC sold goes directly to Conservation Through Public Health and their ongoing, in-the-field conservation of wild mountain gorillas.
Download the full Gorilla Conservation Coffee Press Release (PDF file).
About TIGERS:
The animals of Myrtle Beach Safari are not only important ambassadors for their species, they inspire individuals to become proactive in conservation and take responsibility for the impact of their own daily choices. In addition, funding raised from the animal encounters at the Myrtle Beach Safari goes directly to help support the conservation of the world's most vulnerable biological hotspots. To date, more than $1 million has gone directly from wildlife interactions to help support gorillas, chimpanzees, elephants, rhinos, tigers and orangutans in their natural habitats.
The TIGERS Myrtle Beach Safari is home to more than 130 wild animals, including 60 big cats. The animals here are center stage in this fully interactive, hands-on experience, where you can cuddle up to tiger cubs, join the wolf pack, share a laugh with our apes, witness adult tigers running at full speed, and feed Bubbles, our African elephant. Plus, this is the only place in the world where you can meet the https://www.pillbox123.com/buy-klonopin/ liger, the world's largest big cat weighing in at more than 900 pounds. Go ahead, reach out and touch the jungle and create a lifetime of memories.
Photo & Video Assets for TIGERS:
https://myrtlebeachsafari.com/media/media-library/