​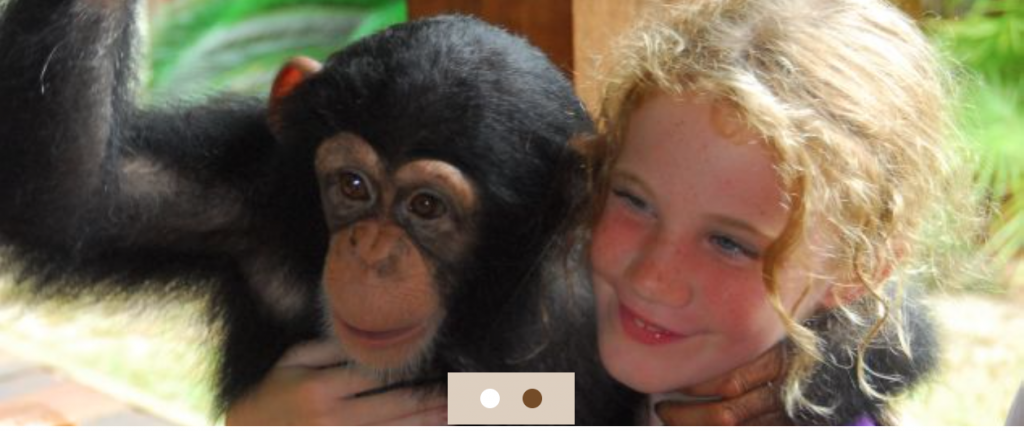 POSTED ON DISCOVERSOUTHCAROLINA.COM – CLICK HERE TO VIEW THE ARTICLE
Our visit to the Myrtle Beach Safari ended with an orangutan hug.
My husband, kids and I, along with about 50 other people on the Myrtle Beach Safari program, were lined up along the edges of a pergola, watching an orangutan swinging along the sides.
When she got to my 10-year-old son, she stopped midswing and dangled by one arm, seemingly sizing him up with her enormous brown eyes. She reached out her arm, pulled him into an embrace and cupped the back of his head with her massive hand. She didn't let go for a good half minute. When she pulled back, she looked at him one more time, stroked his cheek with her fingertips, and then swung on.
It was just one of a dozen remarkable moments during an amazing day at T.I.G.E.R.S., The Institute for Greatly Endangered and Rare Species, which gives visitors the chance to meet, touch and interact with an incredible array of animals. It came at the end of a day in which a tiger cub became fascinated by my husband's shoes, determined to wrestle them into submission, and a young chimpanzee, after giving high-fives to the assembled group, toddled over to my daughter and hugged her legs, as though recognizing a fellow child.
On our tour at this 50-acre facility near Myrtle Beach, baby tigers romped on our laps, Bubbles the elephant ate carrots from our hands, and wolf pups ran by as we reached out to pet them.
It's hard to believe that just a few miles from the beaches and boardwalk and rides of Myrtle Beach, there are tigers roaming in the woods. Even more remarkable, we have the chance to meet and hold these amazing animals.
The tiger cubs were the most adorable of the many animals we met. As we all sat in an octagonal enclosure with our backs to the walls, the T.I.G.E.R.S. animal trainers brought in half a dozen cubs. These rambunctious, striped furballs ran all over our legs, played with their stuffed toys and wrestled each other. We got to hold, touch, pet and watch them clamber and strut around.
The stars of the tour, however, are the big cats — tigers, leopards, cheetahs and even a liger (a massive lion/tiger hybrid.) While there was certainly no romping or playing with these enormous, fully grown creatures, visitors get to see (and hear) the incredible cats as they run and swim. When a Siberian tiger took off at full speed on a huge grassy lawn below us, we could even feel the pounding vibrations of his running. When a cheetah slowly walked by, staring calmly, I felt like he was sizing me up for lunch.
T.I.G.E.R.S. staff trains these "Animal Ambassadors" for appearances in films and on television. In fact, you've probably seen some of the T.I.G.E.R.S. animals before. At the beginning of the tour, you'll get to see an introductory video that shows some of the famous movies and commercials these animals have been a part of.
The trainers, all of whom live on-site, have remarkable relationships with the animals. They freely share stories of what it's like to live with and train these incredible cats and apes.
T.I.G.E.R.S. was founded by Bhagavan Antle, one of the premier animal trainers in the world, as an organization dedicated to wildlife education and endangered animal conservation. The trainers explained the preserve's conservation work in Africa and Asia during the tour.
The Myrtle Beach Safari tour is just one of their many outreach efforts to teach the public about endangered big cats and apes and their plight in the wild. The hope of the trainers at T.I.G.E.R.S. is that once people have the opportunity to see and interact with these endangered animals, visitors will become more dedicated to protecting these creatures in the wild. The trainers share lots of information about the different species and the challenges they face during the tour. The trainers use the skills and trusting relationships they have developed over the years of raising the animals from infancy to create a safe and incredible animal experience for visitors.
Tours cost $299 per person for the 2015 season, with some discounts available on the preserve's website. The tour starts in the morning and lasts until the early afternoon. Drinks and snacks are included, and the food is actually fantastic. Photographs, photo CDs and DVDs capturing the day are available for an additional cost. That said, it is truly an experience like no other. You need to make reservations for the tour of the preserve. Check their website for more information about scheduling.
T.I.G.E.R.S. also operates Preservation Station at Barefoot Landing in North Myrtle Beach. At this free exhibit, you'll have the chance to see full-grown tigers relaxing and playing in a glass enclosure. The day we were there, two tigers engaged in an epic wrestling match, romping, swatting and leaping on each other, just inches away from us. They looked like fantastically over-grown kittens. When they tired out, they wandered over to a small pool and sat together under a little waterfall. They didn't seem interested in the people staring at them at all, but when a dog walked by, they leapt right up to the glass. Their eyes locked on the dog, and you could feel the intensity of their bodies, ready to pounce, through the glass. That's when you realize they really aren't kittens at all.
The tigers don't live at Preservation Station. They live at the main facility and only come to Preservation Station for a few hours. Because of this, the exhibit is only open in the afternoons or evenings, weather permitting, and from March through October. Check their website or call to make sure they're open.
You can also have your picture taken while at Preservation Station, either holding a tiger cub or with an orangutan or chimp. The photo session is super-quick, but you'll get a great photo to take home.
Preservation Station is located at Barefoot Landing, 4898 US 17 South in North Myrtle Beach. Call 843.361.4552 to check their hours.